MACHINES AND TECHNOLOGY ACCESSORIES FOR FOAM MAT.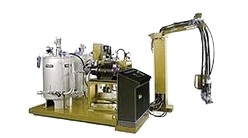 - YOUR WORK WILL BE FASTER
- BUILD TO ORDER MACHINES
- SERVICE AND CONSULTANT SERVICE
We delivery custom made machines for polyurethane foam, Visco foam, styrofoam, flexibile foam and memory foam too! All machines are build to order by custom made machines.

Many types of machines for foam materials. Form filling machines, special forms for injection and injection machines, perforating machines, mixing equipment, seasling machines, manupulators etc. Worm conveyors are intended for dose and transport of bulk and fine-grain materials. Stationary silos are intended for storage of bulk materials and mixtures. All for foam at one place.
Didn't find what you were looking for? Do you need advice? Contact directly: