SERVICE, MAINTENANCE AND REPAIRS - INFORMATION
Service in all ways
We offer service, maintenance and assembly work in several areas and industries. Since the beginning of the company in 1994 (2006 s.r.o.), when we supplied the first technologies, we have included in our activities the care of the machines and tools supplied by us. Gradually, however, we began to carry out repairs and maintenance of competitive lines, machines and cutters as well.
The ability to implement even complex reconstructions and overhauls continues expanded, and now we are able to put complex units into operation. For example, at the time of the onset of Covid-19, we were the leading company in the assembly and start-up of garlic plants and Taiwanese lines for respirators and masks. Recently, we have also, for example, implemented a change in management and repair of an old line packed in stretch film with 12 conveyors, replacing mechanical control with servo drives on a line for the production of envelopes and letters, or repairing a malfunctioning band saw from 1961. Today, we are no longer afraid of anything.
Brief overview of our work:
scissor grinding, special grinding
electrical inspection of machines and devices
electrical installation work
modification of switchboard groups
repair and adjustment of control units, control systems of automatic machines
mechanical repairs of all types
repairs of a mechanical nature according to your request
repairs using original spare parts, parts assemblies
repairs using custom-made modified parts
regular servicing of your machines at your place of business
suggestions for improving machine comfort and making your production more efficient
providing or developing documentation for tools or older machines
Service and sharpening of tailor's scissors
#scissors #sharpening #KAI
We carry out repairs and service scissors including their grinding and adjustment of the central screws. Grinding professional scissors requires special access. So always leave them to the professionals.
Improper grinding can cause irreversible damage to scissors . Our company provides grinding on special grinding equipment. With scissors with micro-teeth, only the blade without micro-teeth is sharpened. Scissors from us are after maintenance like new. Replacing the central pin, defining clearances, securing replacement parts for KAI scissors ... nothing is a problem.

Scissors carefully pack and send to us together with your contact information. We will contact you immediately after acceptance and agree on the scope of maintenance.

Try us and you won't want it any other way!
Service and repair of cutters, hand tools
#handtools #sparepartsinstock
The specialized workplace is equipped with technical facilities for carrying out service and repair work at a high professional level. Due to the long-term experience and coordination of repairs within all sections of our company, we always try to find the most advantageous solution (economical and technical). For cutting technology, we have the largest stock of parts in the Central European region. On average, we repair around 100 cutters per year to the full satisfaction of our customers.
Expanding and clamping shafts service
#shafts #repair #IBD
Repairs of all well-known manufacturers and brands.

We cooperate not only with Reelton s.r.o. companies. (formerly Wiesner), IBD Wickeltechnik or Airmat. We also supply new shafts and spare parts.

Whether it is the replacement of the filling valve, the entire tube, the replacement of clamping bars or segments or general repair, we always approach the job with the utmost care.
Overhaul of band saw impellers
#saw wheel #bandage #sawservice
The impellers of your band saws and their rubber surface, which ensures the guide of the knife, are subject to wear. Our company therefore offers a financially advantageous reconditioning of wheels up to a diameter of 450mm, which consists in milling off the original layer of coating from the wheel and applying a new, flexible layer of rubber coating to your original wheel. Wheel balancing and bearing replacement is a matter of course. We also deliver and exchange other spare parts, such as bandages for splitting machines, extrusion units, grinding mechanisms incl. sharpeners or band knives.
We provide spare impellers and other spare parts for your band saw or splitting machine. This will significantly reduce downtime in case of machine maintenance.

Wheel repair can be done by dispatch.
Service of band saws and other machines
#regularservice #maintenance #perfectconditionmachine
Like any machine, the band saw and its mechanical moving parts are subject to certain wear and tear.

ROBEX DK, s.r.o. offers quick overhaul of the main components of band saws. You can achieve a high-quality cut of your bandsaw by replacing the bearings on the shaft of the guide wheels. It is also important to set the wheel axis correctly and adjust the grinding device. As part of our activity, we offer regular maintenance not only of your band saw and all machinery.
Service and repair of machines and devices
#serviceatplace #machinemaintenance #machineservice
Service and repair work can take place at the location of your machine. However, in the case of a major intervention in the construction of the machine, it is necessary to transport it. We also offer the possibility of urgent service work, where we are able to ensure the repair and adjustment of your machine in a very short time horizon. By agreement, 24/7 service within 24 hours.
Overhaul and general repairs of textile, other machines
#generalrepair #overhaul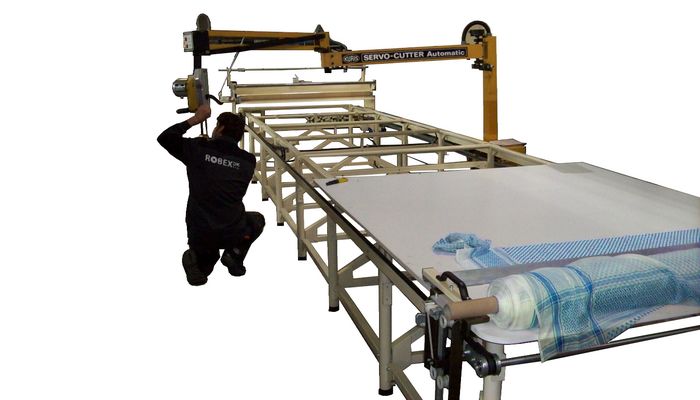 When ensuring complete overhauls and overhauls of older machines, it is necessary to transport them to our premises, where it is possible to coordinate a wide range of demanding work. At the same time, the installation of a new electrical installation or of the entire control system and mechanical, machine, painting work and many others.
The machine intended for overhaul is always handed over to the customer in a form that fully complies with applicable standards and safety regulations. Due to our long-term experience in this field, we are rightly considered to be the best in this field.
Electrical service and modernization
#electricity #electroinstallation #modernization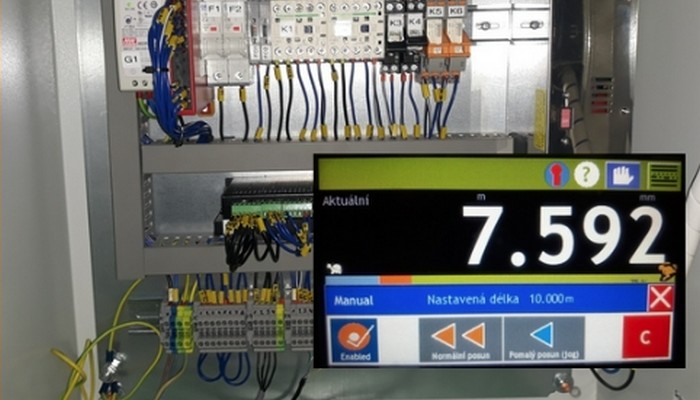 Quick service of electrical components, adjustment of sensors and sensors, replacement of electrical components, modernization of machines incl. PLC and software, electroprojection and creation of documentation, these are only some of the services in the field of electrical installation of machines.
Whether it is simply setting the parameters of sensors, sensors, drivers, frequency converters or PLC with HMI or their replacement during modernization or in the event of a fault, we always try to act quickly.

Connection, setting, programming of elements Siemens, Omron, Hitachi, Kinco, Xinje, Rievtech, Schneider, Lenze, Yaskawa incl. buses and remote management... We will use what you prefer.