Custom maded machines by firm ROBEX DK, s.r.o. ®
Custom production of machines, production of single-purpose machines and equipment
The company ROBEX DK, s.r.o.® is a long-standing manufacturer of technology and technologies for the processing of textile materials, films, paper, PUR foams and other foam materials. By narrowly specializing in machines for the processing of textile materials, synthetic materials and volumetric foams, we have become an absolute leader in this field, not only within the Czech Republic but also in the entire EU region.
We offer the development, construction and production of single-purpose machines and equipment according to specific customer requirements.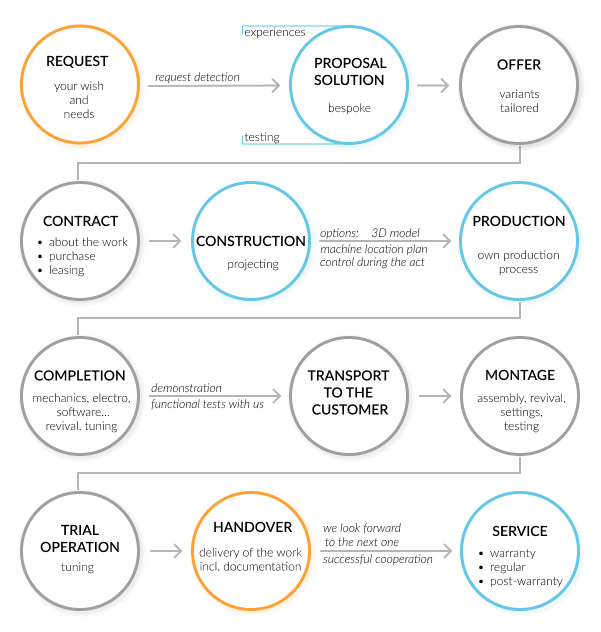 From design to revival and subsequent service
We will guide you through the job from design to completion. We will process the technical design of a single-purpose machine with a 3D model, including possible simulation and layout in the production area. This is followed by the production of the machine, line incl. switchboard and electrical installation on the machine, software creation, assembly and recovery. We will take care of everything. We take your standards into account.
Didn't find a typed solution? Let's work together on a new project ...
Our own design office and our development center incl. of the order management system undergoes constant changes. We try to make production as efficient as possible. We also strive to establish an ideal state within customer-supplier relations. All steps are aimed at the satisfaction of you, our customers.
The machines manufactured by us are always designed to minimize possible future maintenance. Even so, however, mechanical wear must be taken into account and it is therefore necessary to carry out regular maintenance of the machine. That is why we have included service activities and trained qualified service personnel. Find out about the possibilities of cooperation in the service and maintenance of machines here!
The scope of the service can also be negotiated contractually, and we also offer the option of non-stop warranty and post-warranty service. We are then on site within 24 hours for orders under warranty and after the warranty as part of the service contract. Other services such as: regular service, keeping spare parts in stock, overhaul of your older machines, etc. can also be arranged individually.
How are we different?
We follow our own code of ethics and try to approach production as if we were making a machine for ourselves. However, always taking into account your needs. The ideal situation is to find out the needs not only of your company's management (contractor), where in addition to production performance, consumption, product quality, its safety is also taken into account from a price point of view, but also account is taken of the needs of service and possible maintenance.
So we try to involve more involved floors of your company in the process. Questions on your build, how you've handled the material so far, what real cadence you need with a view to the future. This will prevent complications in the future. Each machine is always designed and manufactured to measure, although our effort is to start from typical solutions that we already own during our existence.
It is important for us to know all your needs and to anticipate future requirements. Our presentation only outlines the overview of machines manufactured and delivered by us, in case you have not found any suitable machine or principle, please contact us. We will offer you other possible solutions.
We integrate top technologies
In the production of our single-purpose machines, we use the technologies of well-known and proven manufacturers to achieve the highest possible quality, but always taking into account their future availability and possible future replacement.
In the last 10 years, the components of automatic production and robotics have become significantly cheaper. Thanks to this, it is possible to achieve very interesting prices with a quick payback during the construction of the machine. Your investment in a new production machine often begins to return after only one year of operation. Together with an increase in quality, an increase in the availability of the production line and savings on personnel costs.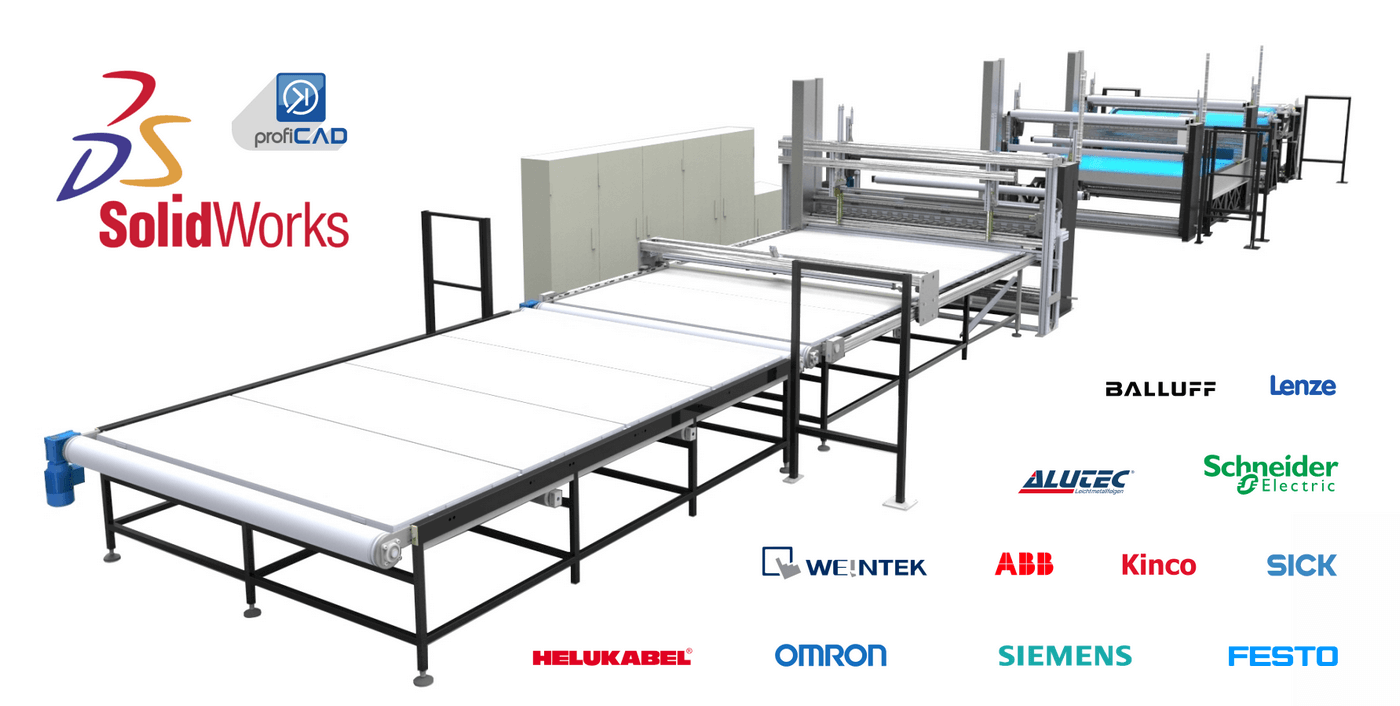 From simple mechanical machines, through relay combinations (old school) to fully automated systems with remote access to data. We integrate and program control systems Siemens S7-200, S7-300 and S7-1200, Logo exceptionally, or Omron CP1L, CP2, CJ2 and other control systems from Omron, as well as exotic control systems Kinco, Xinje, Fatek and many others .
We place maximum emphasis on reliability, which also contributes to the fact that we use only high-quality and proven components from leading domestic and foreign manufacturers (SICK, BALUFF, FESTO, HIWIN, KEYENCE, LENZE, LINTECH, RAVEO, OMRON, SCHNEIDER, SIEMENS) ...).
In the lines for the processing of textiles, foils and other materials, we try to incorporate technologies that we ourselves offer as sales goods in our shop with a long tradition. For example, for measuring, we use encoders or complete measuring assemblies of the ROB series, which we offer and manufacture ourselves. For cutting lines, we use some of the knives that we offer as spare parts for manual cutters. The same solutions are also offered for band saws or splitting machines, where we use not only band knives, but also grinders. Both sections of the company are thus largely connected.
Everything in one place
Construction
We offer comprehensive designs of single-purpose machines, production lines and special machines. We also automate and modernize existing workplaces. According to the specifications, we will create a design proposal and a price calculation for you. We create models of parts and complete assemblies in the SolidWorks 3D system, including technical documentation.
Production
We implement projects according to our own production documentation. We manufacture machine parts and components for various industries.
We provide assembly, completion of machines and production lines, installation of electrical, electronic, pneumatic elements and distribution on machines, including software equipment and service facilities.
What we do it on (just something)?
cantilever vertical milling machine FGV 32
universal point lathe SN 50 C / 2000 CE
universal point lathe SN 50 C / 1000
surface grinder BRH 20 A
band saw for metal BOMAR Ergonomic 320.250 DG
welding and clamping table Siegmund - 3 x 1.5m
welders MMA, MIG/MAG, TIG aj.
Service and renovation
We provide warranty and post-warranty service not only for our machines and production lines. We carry out renovation of shafts, gears, shaft connections, pneumatically expanded shafts and other functional parts of machines and units.
Thanks to our own electrical department, including electrical projection and programmers, we are also able to carry out repairs and modifications of older control systems, their expansion or replacement of IO incl. digital sensors, analog sensors, strain gauges, measuring length or distance, etc.
References and where can I see it?
In some cases, it is possible to arrange a demonstration of the machine at an existing user. We are also able to arrange tests with your material.
You can see the machines made by us on this one of ours presentation! You can find these products in the left menu as blue items under the text "Our Custom Products".
In the 18 years of our production's existence, we have produced more than 555 machines. Of these, 196 are on this site. Here is a list of some references: